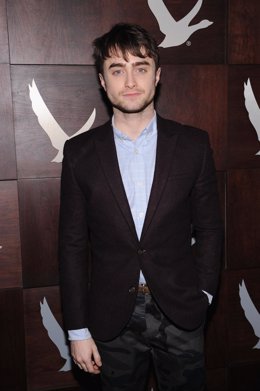 Tras una década y ocho películas interpretando a Harry Potter, Daniel Radcliffe no quiere volver a dar vida al joven mago. Pero todos estos años de dedicación no han conseguido que el actor reniegue del universo de J.K. Rowling y estaría dispuestó a regresar en una poco probable secuela... pero siempre con otro personaje.
En una entrevista con la revista Out, Radcliffle habló sobre la posibilidad de que Rowling escriba más material relacionado con el mundo de Hogwarts y su adaptación para la gran pantalla. El actor británico está dispuesto a regresar a la saga que lanzo a la fama pero en un rol más acorde con su situación actual. "No más historias como colegial", sentencia.
"¿Un cameo como el padre de Harry? Eso sería perfecto?", afirma Radcliffe. Y es que, a sus 23 años, el actor confesó que su instinto paternal está ya bastante desarrollado y espera ser padre antes de cumplir los 30. Un padre joven que "tenga energía para jugar al fútbol con sus hijos a pesar de que ellos sean cuatro".
"Definitivamente quiero tener hijos. He crecido junto a un montón de personas que tenían los niños cuando les conocí, porque muchos de ellos eran mucho mayores que yo. Y vi el maravilloso cambio en ellos", dijo Radcliffe que agregó que va a ser un padre exigente con sus hijos.
Desde que abandonó la franquicia de Harry Potter, Radcliffe ha estado alternando su carrera cinematográfica como la teatral. De hecho el actor preapra en estos momentos su papel en la obra The Cripple of Inishmaan, que se estrenará en pocas semanas en los escenarios de Londres.
En la gran pantalla le hemos visto protagonizando la cinta de terror 'La mujer de negro' y tiene pendiente de estreno la cinta Kill Your Darlings, donde interpreta a Allen Ginsberg y acaba de rodar la comedia romántica The F Word.
Fuente: l
http://www.europapress.es/cultura/cine-00128/noticia-daniel-radcliffe-quiere-interpretar-padre-harry-potter-20130528175947.html